Field and track star Lolo Jones has overcome many obstacles before becoming the athletes she is today. Growing up in low income household, Lolo and her family moved constantly. So much so that she went to a different school each year while growing up, until high school. No one likes being the new kid, but she was the new kid almost every year!
Lolo went to Theodore Roosevelt High School in Iowa and it is here that she pursued her love of track.
She showed great promise as a hurdler by winning the Gatorade Iowa Track and Field Athlete of the Year Award. Her talent for track thrived when she attended Louisiana State University by winning 100-meter hurdles at the 2002 NCAA Track & Field Championship.
Not only did she win an event that year, but she also won the 60-meter hurdles at the NCAA Championships in 2003 and 2004. Not to mention, she was an 11-time national champion, talk about busy!
In 2005, Lolo graduated college and became a professional athlete. She won the Torina Memorial event in 2005 and both the Heusden and Ostrava Track Events in 2006. Due to her success, she represented USA in the Olympics in 2008 and did very well in the Olympic Trials. With her prize money from the Trials, she created a fund assisting a single mother who was a victim of the Iowa floods. Lolo also used the money to give each girl on the Theodore Roosevelt High School a pair of spikes and donated money to the school so that repairs could be made on the track and to purchase new hurdles.

Lolo was diagnosed with tethered spinal cord and had to get surgery in 2011 (ouch!), but that didn't stop her from being qualified to represent USA again in the 2012 Summer Olympics where she received fourth place in the hurdles. She has received a spot on the USA bobsled team as a push athlete. That means she pushes the sled at the start of the race, talk about muscle!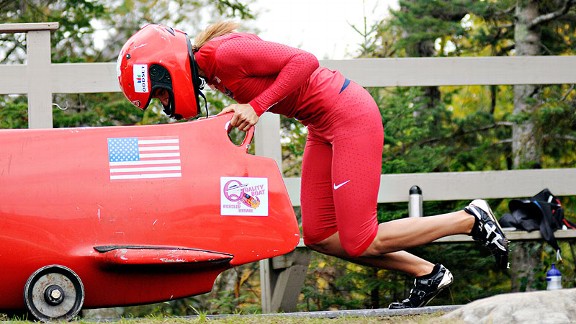 Lolo Jones is fit to inspire because she has never forgotten her roots by donating to those in her home state of Iowa.
She has also proven that she won't back down from receiving an Olympic medal.
"There's always going to be a point where you get knocked down. But draw on what I've learned on the track: If you work hard, things will work out." --Lolo Jones